April 18, 1948 – April 11, 2007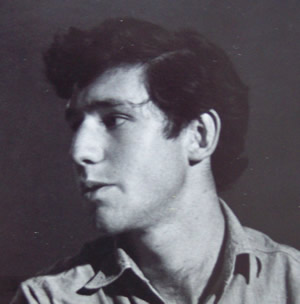 Ken from his college days.
---
An extended biography of ken is on wikipedia.org at
http://en.wikipedia.org/wiki/Kenneth_Kronberg
---
www.kennethkronberg.com was set up shortly after Kenneth Kronberg committed suicide on April 11, 2007, to remember and honor Ken and to make available a link list of websites on which his death and the reasons for it are discussed.


POSTED APRIL 2017
10 Years Since Ken Died
Tuesday, April 11, 2017 was the 10th anniversary of the death of Ken Kronberg, my husband. He died a suicide a week before his 59th birthday, leaping from the Waxpool Road overpass onto Route 28 in Sterling, Virginia.
Here, to remember and honor Ken, I am including a series of poems.
The thread connecting these poems is that they were chosen by Ken in one of two contexts.
First, several years before Ken died, our son asked him what he wanted at his funeral—although we never imagined that day would come so soon.
Ken said he wanted John Milton's translation/composition of Psalm 3; he wanted the last sonnet in Shakespeare's cycle—Sonnet 154; he wanted Percy Bysshe Shelley's Ode to the West Wind and Emma Lazarus's The New Colossus.
At his funeral, our son Max read Ode to the West Wind and Ken's older brother Richard read The New Colossus, which Ken chose to express his love for America as the grandson of immigrants. Psalm 3 and Sonnet 154 appeared in the funeral leaflet—the psalm as the frontispiece and the sonnet on the back cover of the leaflet.
The other poems that appear here—Shakespeare's Sonnet 1, John Keats's On the Grasshopper and the Cricket, and Christina Rossetti's In the Bleak Midwinter—Ken used in the poetry and drama classes he taught the Labor Committee kids over the years.

—Molly Kronberg
Psalm 3. Aug. 9. 1653
—John Milton
When he fled from Absalom.
Lord, how many are my foes!
How many those
That in arms against me rise!

Many are they [ 5 ]

That of my life distrustfully thus say,

No help for him in God there lies.

But thou, Lord, art my shield, my glory,
Thee through my story
Th' exalter of my head I count, [ 10 ]
Aloud I cried
Unto Jehovah, he full soon reply'd
And heard me from his holy mount.

I lay and slept, I wak'd again,
For my sustain [ 15 ]
Was the Lord. Of many millions
The populous rout
I fear not though encamping round about
They pitch against me their Pavillions.

Rise Lord, save me my God, for thou [ 20 ]
Hast smote ere now
On the cheek-bone all my foes,
Of men abhor'd
Hast broke the teeth. This help was from the Lord;
Thy blessing on thy people flows. [ 25 ]

SONNET 154

—William Shakespeare

The little Love-god lying once asleep
Laid by his side his heart-inflaming brand,
Whilst many nymphs that vow'd chaste life to keep
Came tripping by; but in her maiden hand
The fairest votary took up that fire
Which many legions of true hearts had warm'd;
And so the general of hot desire
Was sleeping by a virgin hand disarm'd.
This brand she quenched in a cool well by,
Which from Love's fire took heat perpetual,
Growing a bath and healthful remedy
For men diseased; but I, my mistress' thrall,
Came there for cure, and this by that I prove,
Love's fire heats water, water cools not love.
The New Colossus
— Emma Lazarus
Not like the brazen giant of Greek fame,
With conquering limbs astride from land to land;
Here at our sea-washed, sunset gates shall stand
A mighty woman with a torch, whose flame
Is the imprisoned lightning, and her name
Mother of Exiles. From her beacon-hand
Glows world-wide welcome; her mild eyes command
The air-bridged harbor that twin cities frame.
"Keep, ancient lands, your storied pomp!" cries she
With silent lips. "Give me your tired, your poor,
Your huddled masses yearning to breathe free,
The wretched refuse of your teeming shore.
Send these, the homeless, tempest-tost to me,
I lift my lamp beside the golden door!"
Ode to the West Wind
—Percy Bysshe Shelley
I
O wild West Wind, thou breath of Autumn's being,
Thou, from whose unseen presence the leaves dead
Are driven, like ghosts from an enchanter fleeing,
Yellow, and black, and pale, and hectic red,
Pestilence-stricken multitudes: O thou,
Who chariotest to their dark wintry bed
The winged seeds, where they lie cold and low,
Each like a corpse within its grave, until
Thine azure sister of the Spring shall blow
Her clarion o'er the dreaming earth, and fill
(Driving sweet buds like flocks to feed in air)
With living hues and odours plain and hill:
Wild Spirit, which art moving everywhere;
Destroyer and preserver; hear, oh hear!
II
Thou on whose stream, mid the steep sky's commotion,
Loose clouds like earth's decaying leaves are shed,
Shook from the tangled boughs of Heaven and Ocean,
Angels of rain and lightning: there are spread
On the blue surface of thine aëry surge,
Like the bright hair uplifted from the head
Of some fierce Maenad, even from the dim verge
Of the horizon to the zenith's height,
The locks of the approaching storm. Thou dirge
Of the dying year, to which this closing night
Will be the dome of a vast sepulchre,
Vaulted with all thy congregated might
Of vapours, from whose solid atmosphere
Black rain, and fire, and hail will burst: oh hear!
III
Thou who didst waken from his summer dreams
The blue Mediterranean, where he lay,
Lull'd by the coil of his crystalline streams,
Beside a pumice isle in Baiae's bay,
And saw in sleep old palaces and towers
Quivering within the wave's intenser day,
All overgrown with azure moss and flowers
So sweet, the sense faints picturing them! Thou
For whose path the Atlantic's level powers
Cleave themselves into chasms, while far below
The sea-blooms and the oozy woods which wear
The sapless foliage of the ocean, know
Thy voice, and suddenly grow gray with fear,
And tremble and despoil themselves: oh hear!
IV
If I were a dead leaf thou mightest bear;
If I were a swift cloud to fly with thee;
A wave to pant beneath thy power, and share
The impulse of thy strength, only less free
Than thou, O uncontrollable! If even
I were as in my boyhood, and could be
The comrade of thy wanderings over Heaven,
As then, when to outstrip thy skiey speed
Scarce seem'd a vision; I would ne'er have striven
As thus with thee in prayer in my sore need.
Oh, lift me as a wave, a leaf, a cloud!
I fall upon the thorns of life! I bleed!
A heavy weight of hours has chain'd and bow'd
One too like thee: tameless, and swift, and proud.
V
Make me thy lyre, even as the forest is:
What if my leaves are falling like its own!
The tumult of thy mighty harmonies
Will take from both a deep, autumnal tone,
Sweet though in sadness. Be thou, Spirit fierce,
My spirit! Be thou me, impetuous one!
Drive my dead thoughts over the universe
Like wither'd leaves to quicken a new birth!
And, by the incantation of this verse,
Scatter, as from an unextinguish'd hearth
Ashes and sparks, my words among mankind!
Be through my lips to unawaken'd earth
The trumpet of a prophecy! O Wind,
If Winter comes, can Spring be far behind?
SONNET 1

—William Shakespeare

From fairest creatures we desire increase,
That thereby beauty's rose might never die,
But as the riper should by time decease,
His tender heir might bear his memory:
But thou, contracted to thine own bright eyes,
Feed'st thy light's flame with self-substantial fuel,
Making a famine where abundance lies,
Thyself thy foe, to thy sweet self too cruel.
Thou that art now the world's fresh ornament
And only herald to the gaudy spring,
Within thine own bud buriest thy content
And, tender churl, makest waste in niggarding.*
Pity the world, or else this glutton be,
To eat the world's due, by the grave and thee.

*https://en.wikipedia.org/wiki/Controversies_about_the_word_%22niggardly%22
I put this link here because people may think this word has some relation to the N--- word, which it doesn't. It means ungenerous, stingy, parsimonious, and according to the above-cited Wikipedia entry probably comes from an Old Norse word meaning "to fuss about small matters."
In The Bleak Midwinter
—Christina Rossetti
In the bleak mid-winter
Frosty wind made moan;
Earth stood hard as iron,
Water like a stone;
Snow had fallen, snow on snow,
Snow on snow,
In the bleak mid-winter
Long ago.
Our God, heaven cannot hold Him
Nor earth sustain,
Heaven and earth shall flee away
When He comes to reign:
In the bleak mid-winter
A stable-place sufficed
The Lord God Almighty —
Jesus Christ.
Enough for Him, whom Cherubim
Worship night and day,
A breastful of milk
And a mangerful of hay;
Enough for Him, whom Angels
Fall down before,
The ox and ass and camel
Which adore.
Angels and Archangels
May have gathered there,
Cherubim and seraphim
Thronged the air;
But only His Mother
In her maiden bliss
Worshipped the Beloved
With a kiss.
What can I give Him,
Poor as I am? —
If I were a Shepherd
I would bring a lamb;
If I were a Wise Man
I would do my part, —
Yet what I can I give Him, —
Give my heart.
On the Grasshopper and Cricket
—John Keats
The Poetry of earth is never dead:
When all the birds are faint with the hot sun,
And hide in cooling trees, a voice will run
From hedge to hedge about the new-mown mead;
That is the Grasshopper's—he takes the lead
In summer luxury,—he has never done
With his delights; for when tired out with fun
He rests at ease beneath some pleasant weed.
The poetry of earth is ceasing never:
On a lone winter evening, when the frost
Has wrought a silence, from the stove there shrills
The Cricket's song, in warmth increasing ever,
And seems to one in drowsiness half lost,
The Grasshopper's among some grassy hills.